"AutoKrAZ" fulfilled another order of miners. Yeristovo Mining received a platform truck with a tent on the KrAZ-5401H2 chassis basis. The platform and the tent are manufactured by LLC "Special Equipment Plant" (Irkliyiv town).
The customer's representatives carried out inspection and technical acceptance of the truck and noted they are going to use this truck both on the mill's site and in the urban area to transport various cargoes requiring environmental protection. In particular, they were talking about spare parts transporting, which should be delivered from the delivery point to the warehouses for repair and maintenance works of the enterprise's truck fleet.
KrAZ-5401H2 with wheel arrangement 4х2; load carrying capacity — 7 tons; frame installed length — 4030 mm; diesel engine, Euro-5, 160 hp, turbocharged, in-line, 6-cylinder; the air conditioning is available; gear box — mechanical, 6-speed; clutch — dry, single-disc; air spring seats equipped with seat belts.
KrAZ-5401H2 is designed for industrial and special equipment to be installed on it. It can be made with both the short and long wheel base.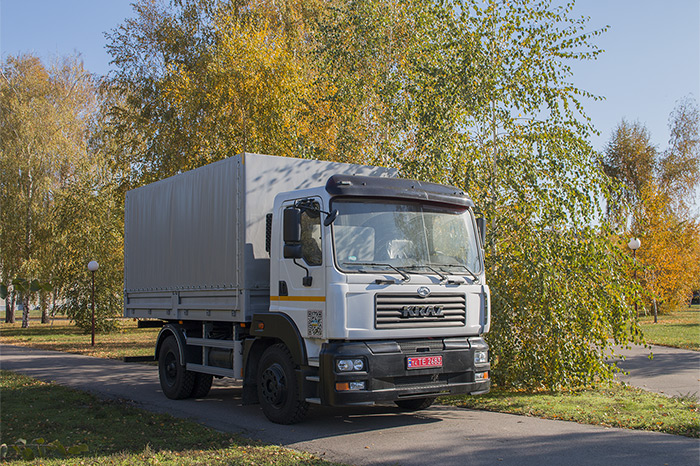 It's worth noting PJSC "AutoKrAZ" systematically supplies products for domestic mining and processing plants, in particular: vehicles for personnel and special equipment carriage, fuel trucks, tank trucks, platform trucks. Special transport on the basis of KrAZ vehicles is used for transportation of miners in the territory of enterprises and to mining sites, for delivery of fuel, technical and drinking water, fire extinguishing, etc. Such a partnership is considered to be socially oriented, mutually beneficial and effective.