"AutoKrAZ" shipped a batch of ATsNG-11 tank trucks on KrAZ-63221 off-road chassis (intended for industrial and special equipment to be installed on it and operation on all kinds of roads and off-road) to PJSC "Ukrnafta". The base chassis is KrAZ-63221-05 chassis (6х6) with the rear protective device installed on it.
ATsNG-11-63221 tank trucks is supplied to one of Ukrnafta's branches. The supplied trucks will be used at the facilities of oil and gas production department. 11m3 tank cisterns, produced at "45 Experimental mechanical plant", are intended for oil, oil products, oil blend, fuels and lubricants transportation.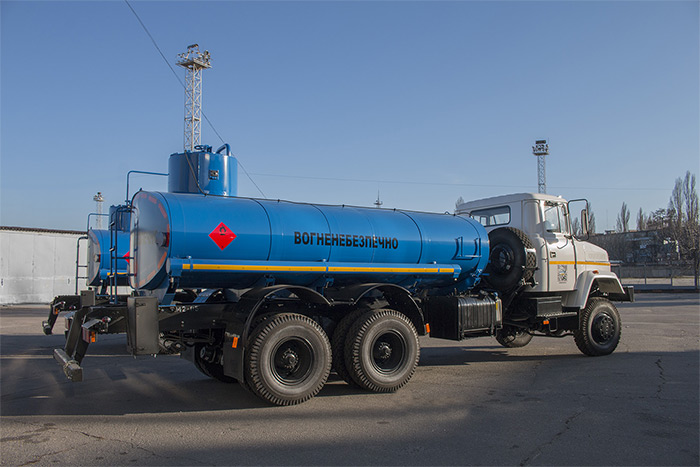 Tank specifications: oval shape, steel, thickness - 5 mm. In rear part it is equipped with a filler (diameter of inspection hatch - 500 mm), reinforcement ribs, a sump, the breathing device, a platform with non-slip coating, stairs, two cases for hose storage, a tool box, metal fenders and the bottom valve. Centrifugal pump with pumping capacity of 29.2 m3/h, pump head - 35 mm Hg. The pump drive is from the engine, via the truck gearbox, power take-off box and propeller shaft. There is a float level indicator. Two sleeves of 4 m each are available too.
PJSC "Ukrnafta" is the leading oil and gas company of Ukraine, which is engaged in drilling and exploitation of fields, oil and gas extraction, traditionally buys special equipment of various purposes, mainly four-wheel drive models with high running parameters, at the KrAZ plant, the domestic producer. Due to joint coordinated cooperation, vehicle parks of oil, gas and oil refining enterprises are renewed with modern reliable automotive equipment.